When it's time for your business to grow or evolve you need a contractor who has respect for the strategic investment you are making and has the expertise in construction to complete the project on time and on budget. Lefever Building Systems will design to meet your needs. Our goal for each project is to help our clients realize reduced cost and energy efficiency for maintenance and building operations.
Upgrading your existing building is a great way to increase its function and longevity. As a business owner you know that it is practical to improve your structure for a number of reasons.
Increase building value
Lower building maintenance costs
Improved employee productivity and morale
Lower utility cost
Increased curb appeal
Improve or expanded operational space
Building Expansions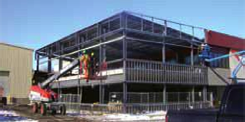 Adding onto your existing building is a great way to make additional room for your growing business. An expansion to your building can integrate with your existing structure both functionally and visually. Lefever Building Systems offers complete services to help you expand your building to fit your business.
Wall Retrofits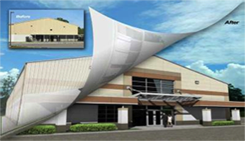 Give your building a new look and increased curb appeal with new wall panels and cladding. Lefever Building Systems offers total or partial wall replacement solutions in a variety of metal panel types and profiles, as well as a selection of "cool" wall colors and textured finishes.
Change the look of your business by adding a new entry way or changing the color and style of your building's exterior.
Add to your buildings energy efficiency by installing insulated wall panels in a variety of styles and colors.
Daylighting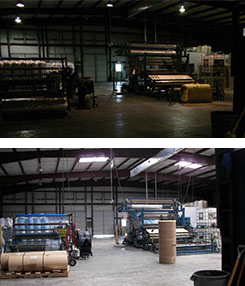 High-Tech Prismatic Skylights provide excellent interior lighting and reduce energy cost by eliminating the need for continuous use of interior lights, reducing electric bills and increasing employee productivity.
Heavy duty, impact modified acrylic light dispersing shape for maximum lighting performance & strength.
Prismatic Skylights will allow you to bring in up to 70% light transmittance with 100% light diffusion allowing balanced lighting with no hot-spots.