Retrofit roofing is a great way to upgrade your existing roof and protect one of your biggest assets. In most cases we can simply encapsulate old roofs with a metal roofing system, which eliminates expensive removal & disposal. A new metal roofing system can provide a weather tight roof with a life expectancy of over 30 years and can give your building a "like new" appearance. Retrofit metal roofing can save you approximately 40% over the roof's lifetime compared to a conventional roof installation.
Metal re-roofing over the existing roof enhance property values, ensure long term weather tight performance, lower maintenance costs. Also, you can increase thermal efficiencies with added insulation. All this is done without costly tear-offs and disruption to your business.
Metal Over Conventional & Slope Build Up Systems

A standing seam metal roofing system installed over existing conventional flat roofs will eliminate standing water on rooftops that cause costly leaks and damage to your building. These roof systems attach directly to your existing roof with light weight framing and come in a variety of styles and colors.
It is common for a building owner to spend an average of 12 cents per square foot per year on maintenance for conventional roofing systems. Add to that, the additional cost of a total roof replacement for the conventional roof in 10-15 years. 15 years. Compare that to a metal roof that has little to no maintenance and a life expectancy of 30+ years. Due to the savings on maintenance expenses and a metal roof's long life, a retrofit metal roof system will easily pay for itself over time.
Metal roofing is the only material recommended for low & steep slope applications and can be configured to a single slope or a multi-slope system.
Slope build ups can eliminate internal valleys and leaky internal gutters. Utilizing a light weight framing system attached to the existing roof and then installing a standing seam roof, Lefever Building Systems can redesign the layout of your roofing system system to improve the look and function of your building.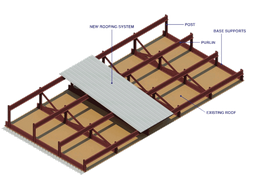 Metal Over Metal Systems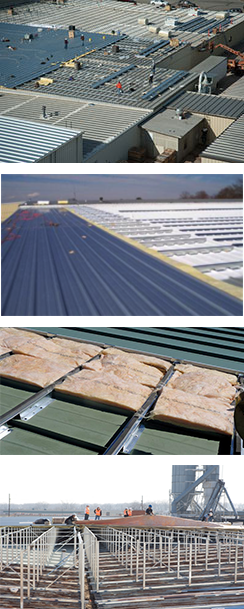 Retrofitting an existing metal roof can be done quickly, at a lower cost than removal & replacement, and with very little disturbance to the occupants. Retrofitting also affords the opportunity to add insulation between old & new roof systems for lower energy usage and costs. And, best of all, retrofitting generates little, if any, landfill debris.
An excellent system to replace older worn metal roof panels, our standing seam metal roofing system delivers unparalleled efficiencies with long-term, low-maintenance performance. A low profile metal over metal standing seam roof system easily attaches to your building's roof structure, eliminating leaking caused by exposed fasteners and will give your building a fresh new look.
Proper installation of these systems is key to the overall longevity and performance of you roof; Lefever Building Systems has the expertise to ensure your new retrofit metal roofing system is going to perform the way it was designed.
Metal over metal roofing systems are energy efficient, cost effective, recyclable, durable, and lightweight. In addition, cool metal roofing offers additional energy savings benefiting both economic and environmental concerns.